Get hiring faster with a streamlined approach to setting up your Eddy account.
There's a quick and easy way for customers to get up and running when planning to only use Eddy's Applicant Tracking System (ATS). Below, we outline the steps to a faster onboarding experience for our ATS-only users (NOTE: This sequence is for Account Owners/Creators only)
STEP 1: CLICK "CREATE ACCOUNT" BUTTON IN EMAIL
When you sign up for Eddy, you'll receive an email that invites you to create an account. Click the blue button in the email to get started.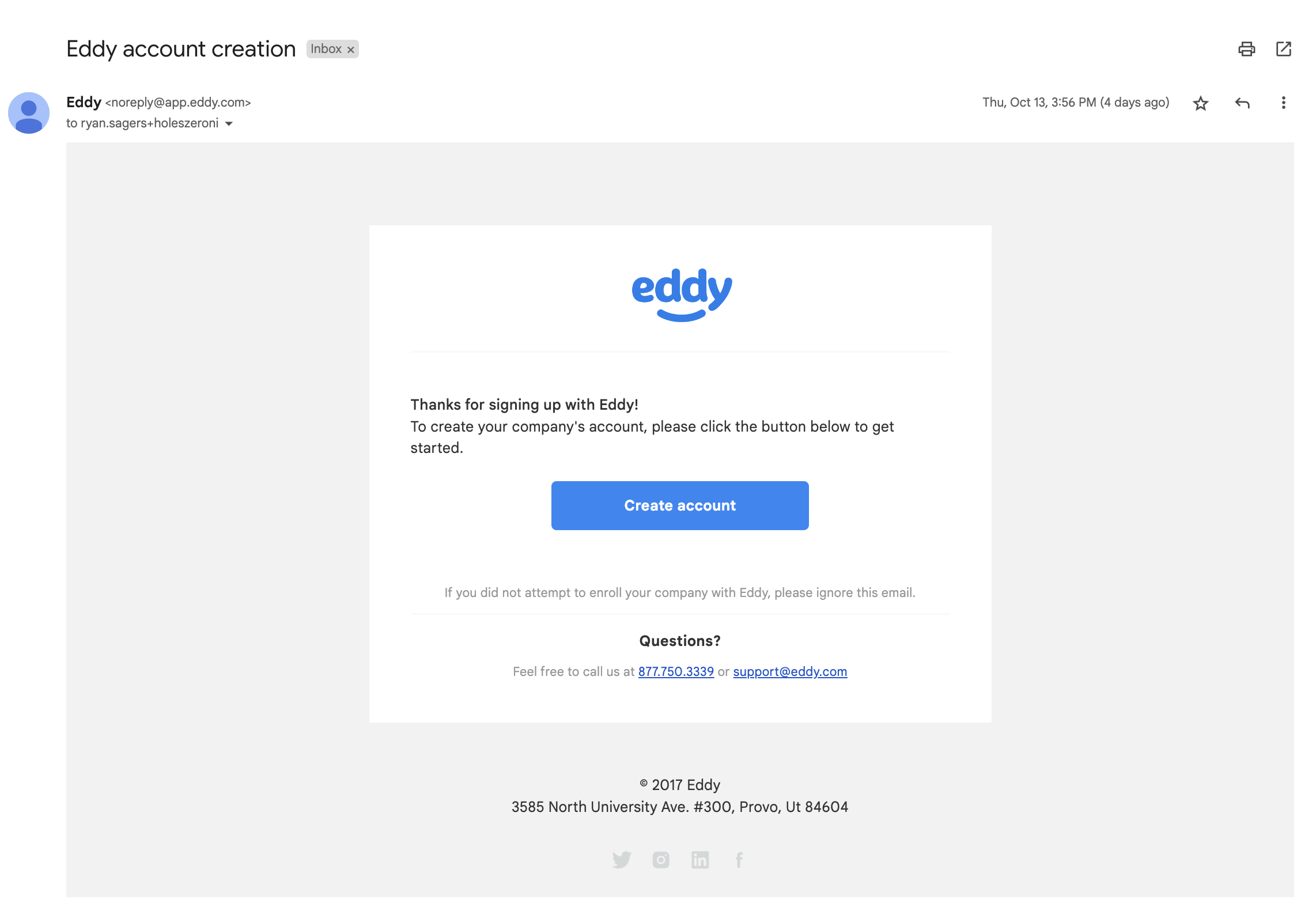 STEP 2: CREATE A PASSWORD
After clicking the blue button to create an account in your email, you'll land on a screen that prompts you to create a password before proceeding to your account.
Your password must:
Include at least 8 characters
Contain at least one uppercase and one lowercase letter
Contain at least one number
STEP 3: COMPANY SETUP
After creating your password, you'll land on a three-step flow that asks you to offer some basic information about your company.
Please ensure that your data is accurate, as it will be used in your job postings.
You'll have the chance to define your:
Company Locations
Company Departments
Company Logo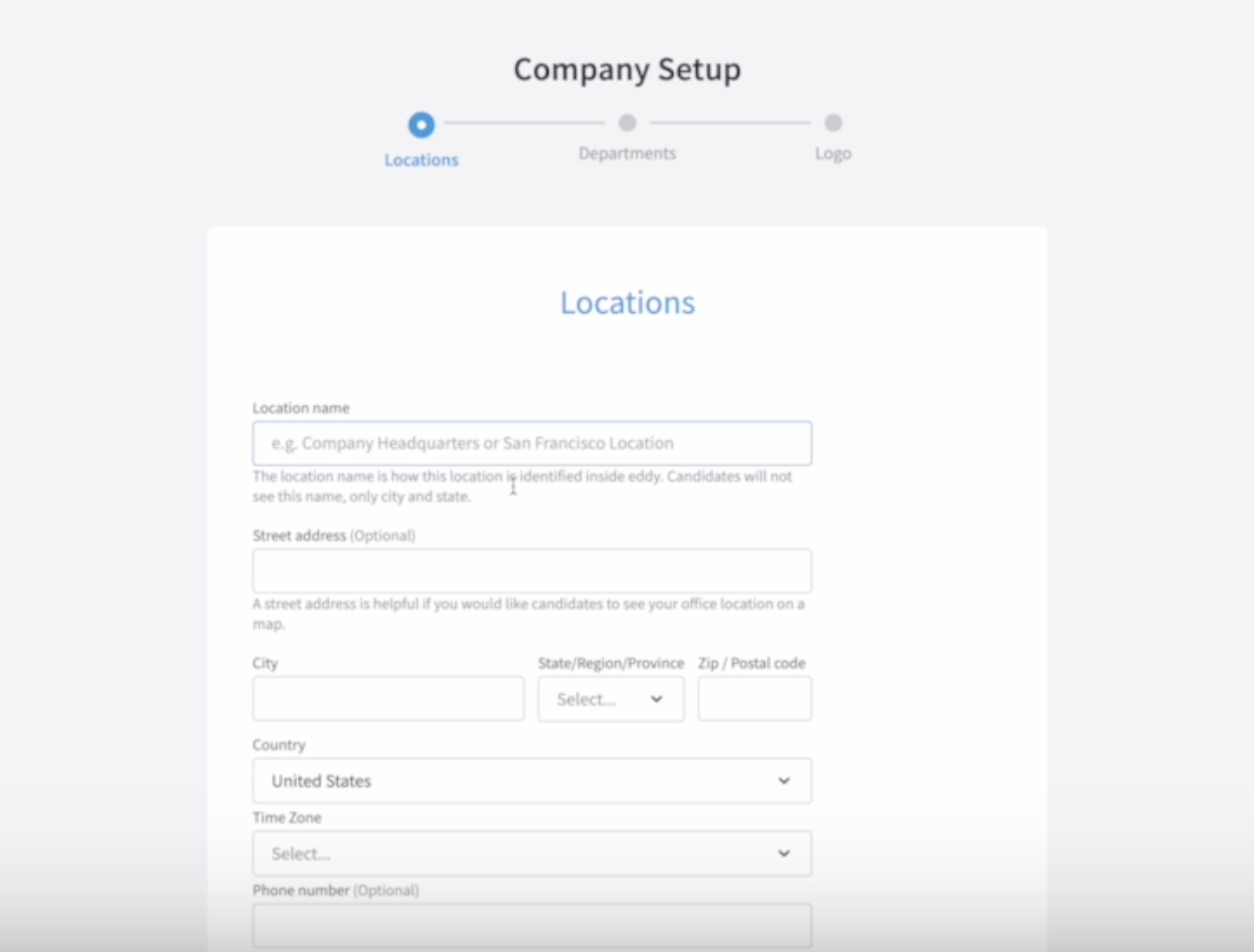 STEP 4: SKIP THE "PERSONAL INFORMATION"
If you are planning to only use Eddy's applicant tracking system, you can skip the flow to add "personal information." The information collected in this flow is vital to companies who use Eddy to store employee information and who use Eddy to run payroll.
If you are using Eddy People or Eddy Payroll, do not skip this step.
However, in the case that you're only using Eddy Hire and utilizing the ATS, you can click the "Skip" option here.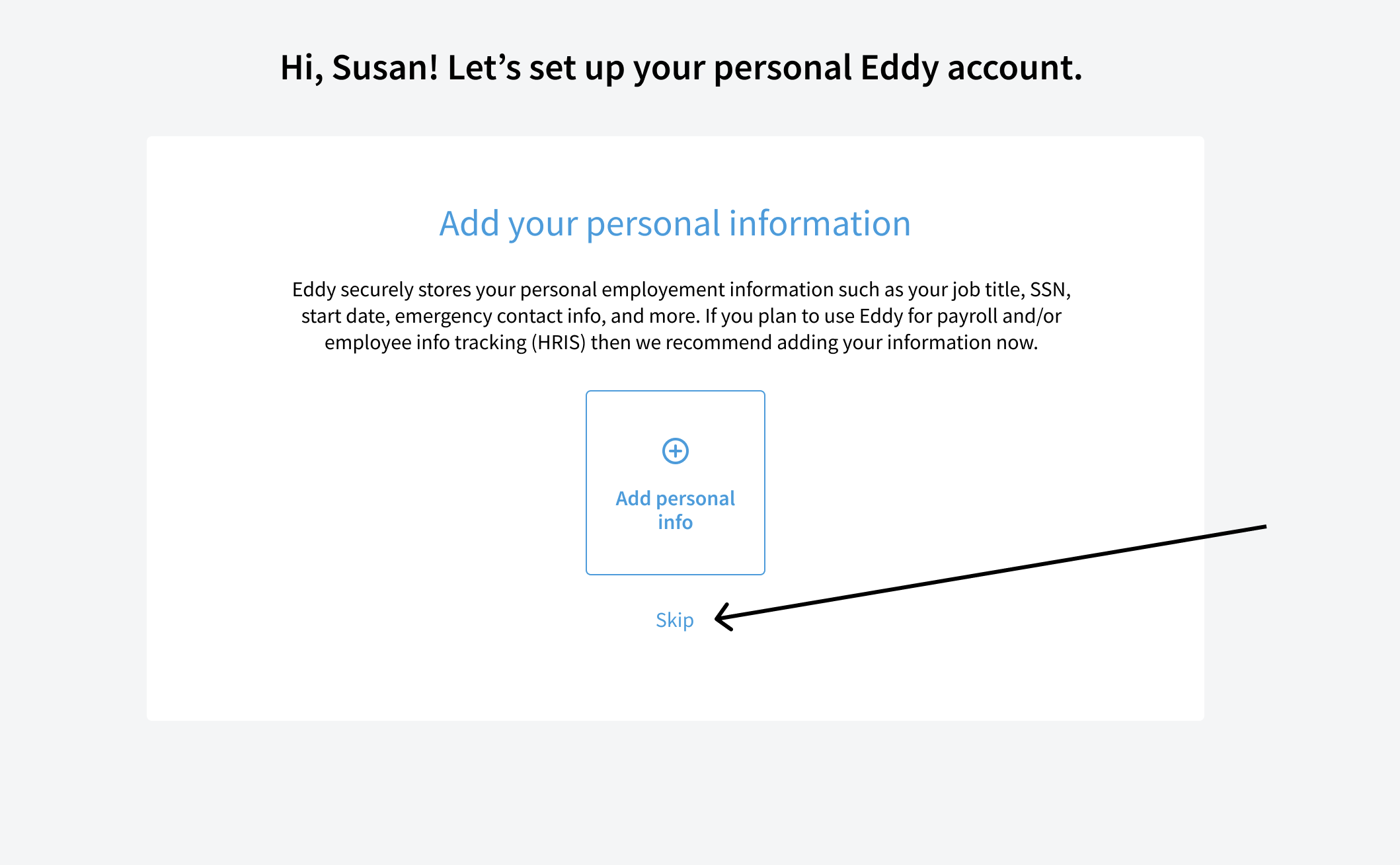 After clicking "Skip" we'll check with you to make sure that's what you want to do. Again, if you're only using the ATS, then you can confirm that you wish to skip the personal information and go straight to the Hiring tab.
STEP 5: GET STARTED!
Once you've skipped the "Personal Information" step, you'll land on the "Hiring" tab within Eddy.
Once here you can get started with Eddy's hiring tools. Your first step will likely be posting a new job! To post a job, start by clicking on the blue button at the top right corner.
Happy hiring!