Communicating with job applicants is a critical part of the hiring process. Eddy simplifies this by allowing you to send and receive emails directly within the hiring platform. No need to jump back and forth from your inbox to Eddy. We put all your communication in one place, so it's easily seen and never lost.
Navigate to the Messages tab
Once an applicant applies for a job, you are able to communicate with them via email messaging through Eddy.
To do this, navigate to the candidate's profile by clicking on the candidate's name. From here, click the "Messages" tab.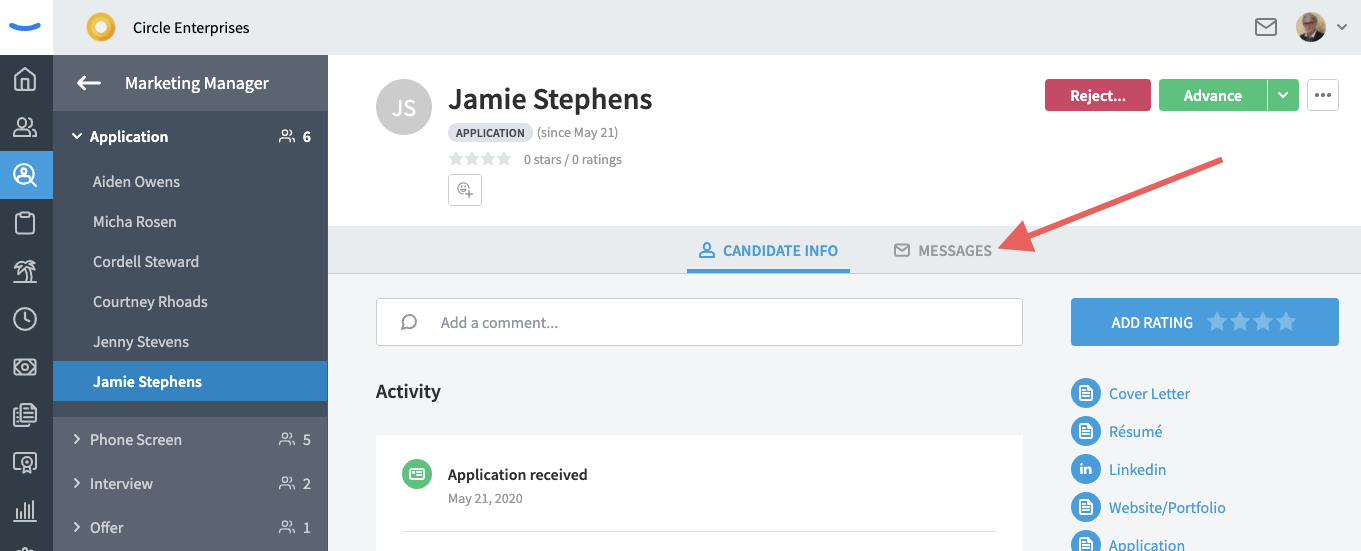 By clicking on the "Message" tab, you'll be able to open the conversation with the candidate.
If you have stage action triggers set up for candidate messages, you may see that an email letting the candidate know that their application has been received has already been sent.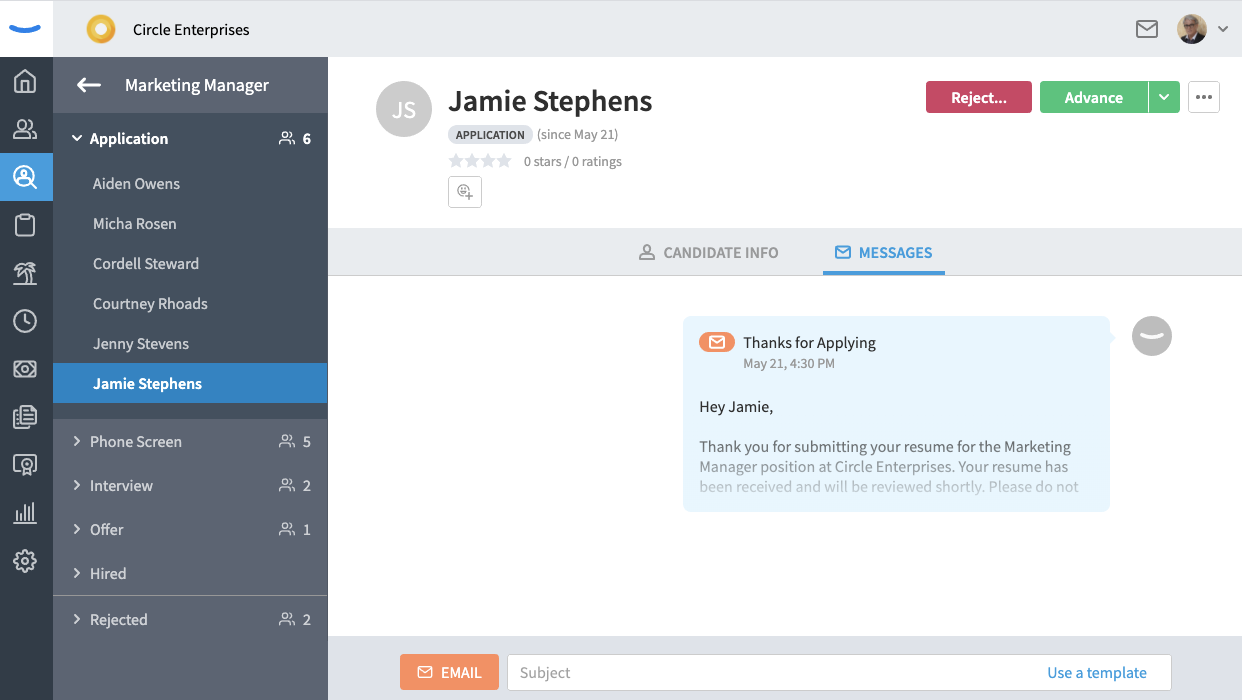 Sending a message to a candidate
To send an email to a job candidate from Eddy, you can do one of two things. First, you can choose to start with a blank slate. To do this, click into the subject line box and type a subject line for your message. Once you click into the box, a body field will appear beneath it. Create a subject line and type your message into the body field.
Once you've created your message, you can click the blue "Send" button to email the message to the candidate.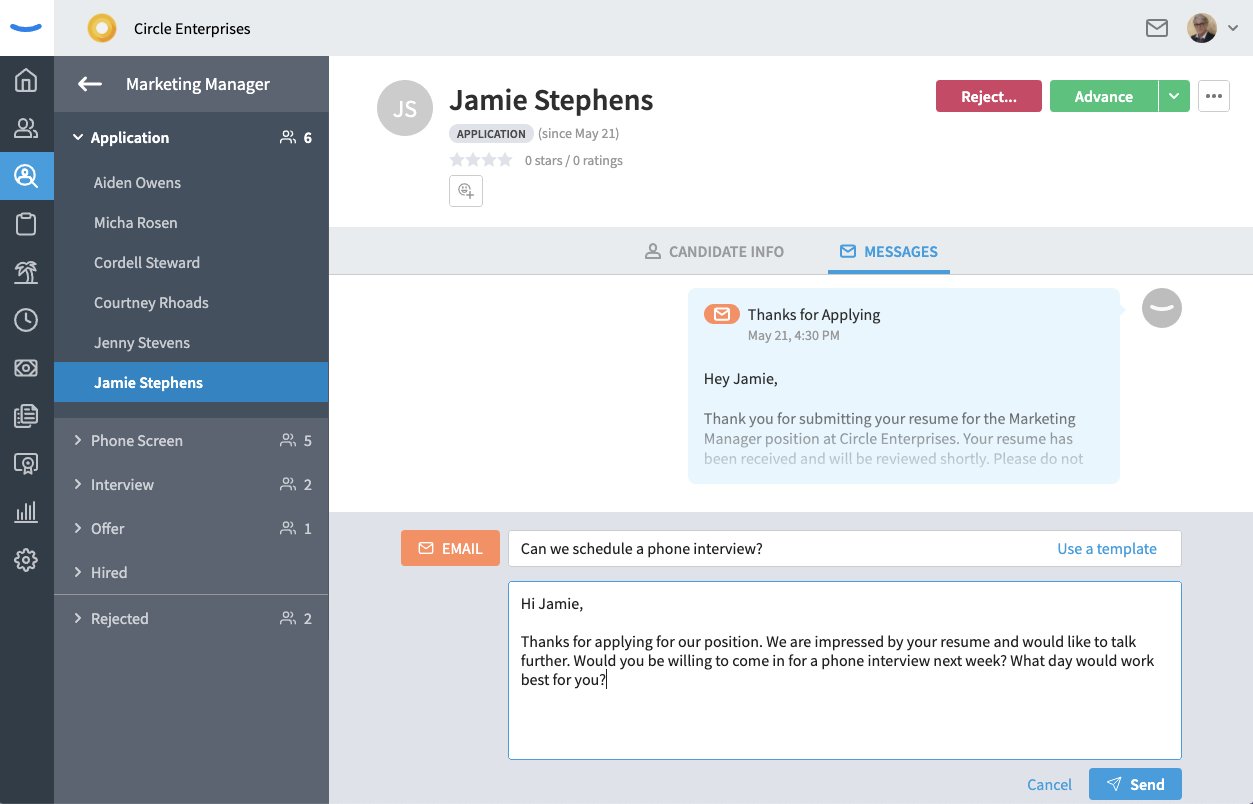 The second way to create a message is through a template. You'll notice that in the "Subject" field, on the far right, there is a link that says, "Use a template". Clicking this link will allow you to use templates you've previously created.
Eddy has two templated messages (for applications received and applications rejected) that you may use, but we recommend making custom templates to cover a broader area of conversation. Clicking the "Use a template" link will open a field where you can select from the list of available templates.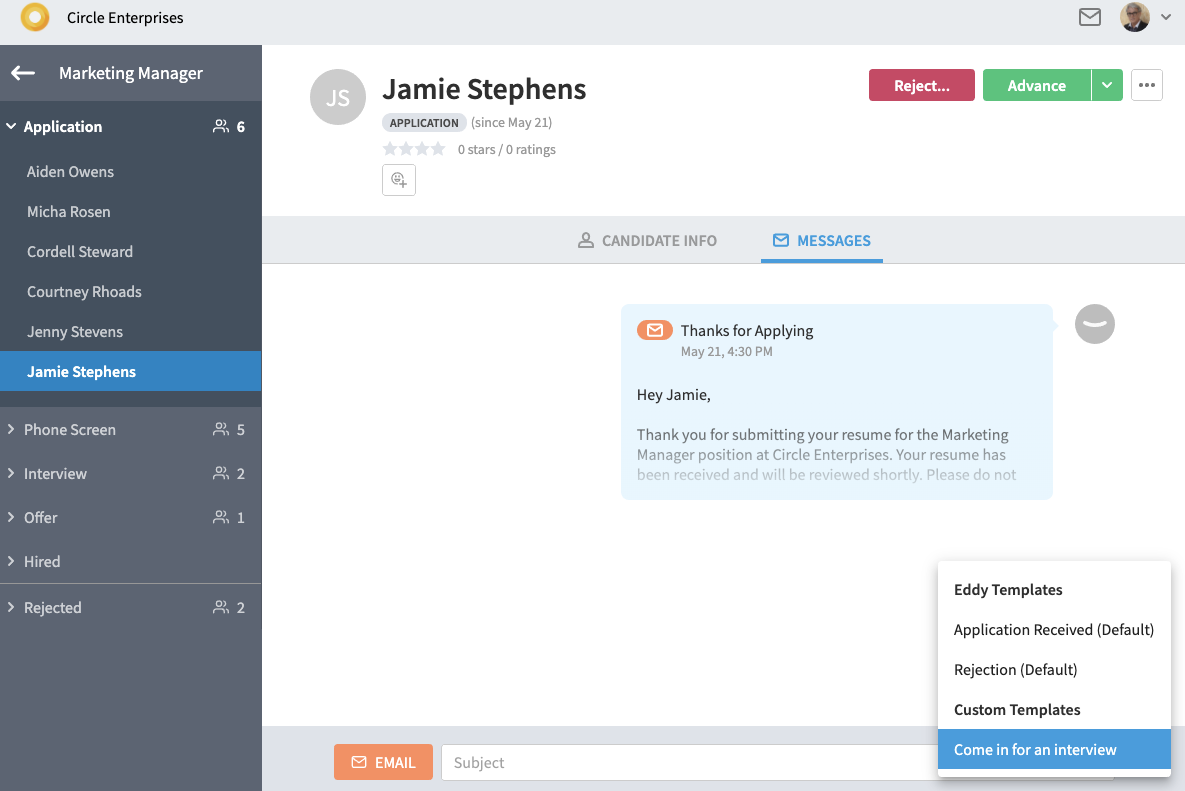 Once you've selected a template, the Subject and Body fields will fill with the template copy, and you will be able to click "Send" to deliver your message.
Receiving a message from a candidate
After a job applicant receives your email, they'll likely respond back to you. This response will come directly to the Messages section in Eddy. You'll notice that the messages sent from your company appear in blue text bubbles, while message responses from candidates appear in gray bubbles.
Notifications for candidate messages
When a candidate responds to your email, you'll be notified in two ways. The first is through the message notification system in Eddy. You'll see a red notification bubble appear over the message icon, and a number indicating the number of messages waiting your response.

Clicking on the message icon will open a preview of the candidate's response. You can be taken to the message directly by clicking on the preview.

The other notification you'll receive is a message to your email inbox, letting you know a candidate has responded to the message you sent. This is to help ensure you never miss a message from a candidate. The email notification you receive will have a "Respond in Eddy" button at the bottom of the message.
Note: To continue the conversation with the candidate, you will need to respond to the message in Eddy. Do not respond or reply to the email notification triggered by to your Inbox.