If you already have a company website and want to link your job postings posted within Eddy, no problem! Follow the steps below.
Options when it comes to a career page.
When it comes to a career page, you have two options.
The first option is to embed the jobs you create with Eddy to an already existing web page that you have already built. Usually, this is a page that you've built on your own website.
The second option is linking to a job page you create within Eddy. This is best for when you don't have the tools to create your own web page. Eddy will make it simple for you to customize your careers page that showcases your company jobs.
This article focuses on option one, embedding the jobs.
When to embed jobs on your own careers page
You can embed the jobs you create in Eddy within your own website. They will show up as soon as they are published as an open job. When you close a job, it will also be removed from your website automatically. Draft jobs will not appear on your website.
Where to Find The Embed Code
To find the right embed code for your company, login to Eddy, and visit the hiring home page. Click the "Career Page" sub-tab. On this page, you see the "Using your own website?" link. When you click this link you'll see the HTML code you can copy for inserting into your own website.

Copy the HTML
After you click the "Using your own website" link, you'll see this message box with the HTML you can paste into your website. You can copy the text by tapping the "Copy embed code" button.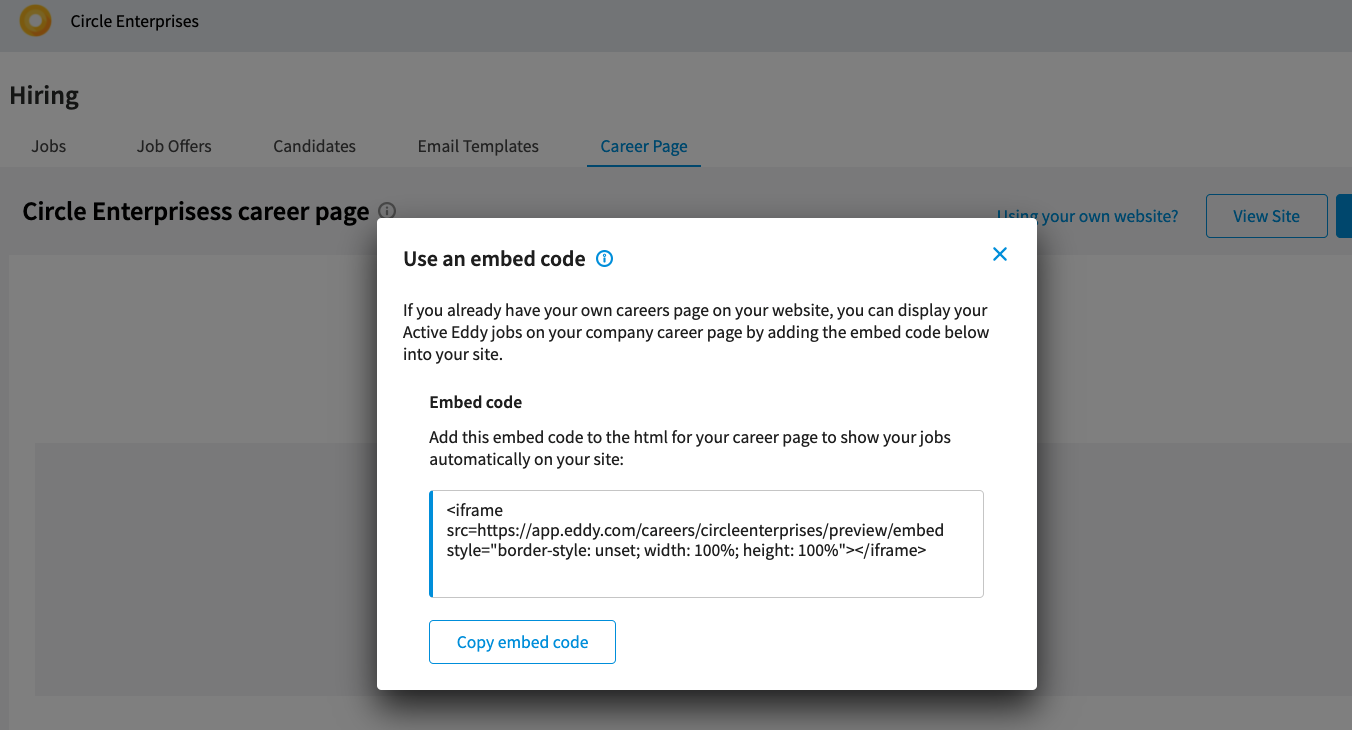 Add it to your website
Adding it to your website can get tricky, especially if you aren't skilled with creating websites. Here are the steps to share with your web guru:
Edit your careers page on your website (often this is in WordPress).
Add a new HTML section. Make sure to copy the HTML embed code in an HTML widget, and not as a regular text widget.
Paste the embed code into this HTML widget.
Further Instructions
Below are links to some common web creation platforms' instructions on using embedded HTML:
The Published Page
Once you've published your updated careers page, it will show the "Open Positions" info on your page.