Eddy provides the capability to promote your jobs via JobTarget with a few clicks. JobTarget lets you post to your choice of 25,000+ sites (general, niche, collegiate, association, blogs, newspapers, state job banks, etc.) in a single transaction. Hiring Admins and Owner Admins within the system can promote a job using the JobTarget options.
Promote a Job
The Eddy Hiring home page includes a Promoted column on the list of all jobs. This column shows promotion info for any public job. Jobs that are private cannot be promoted.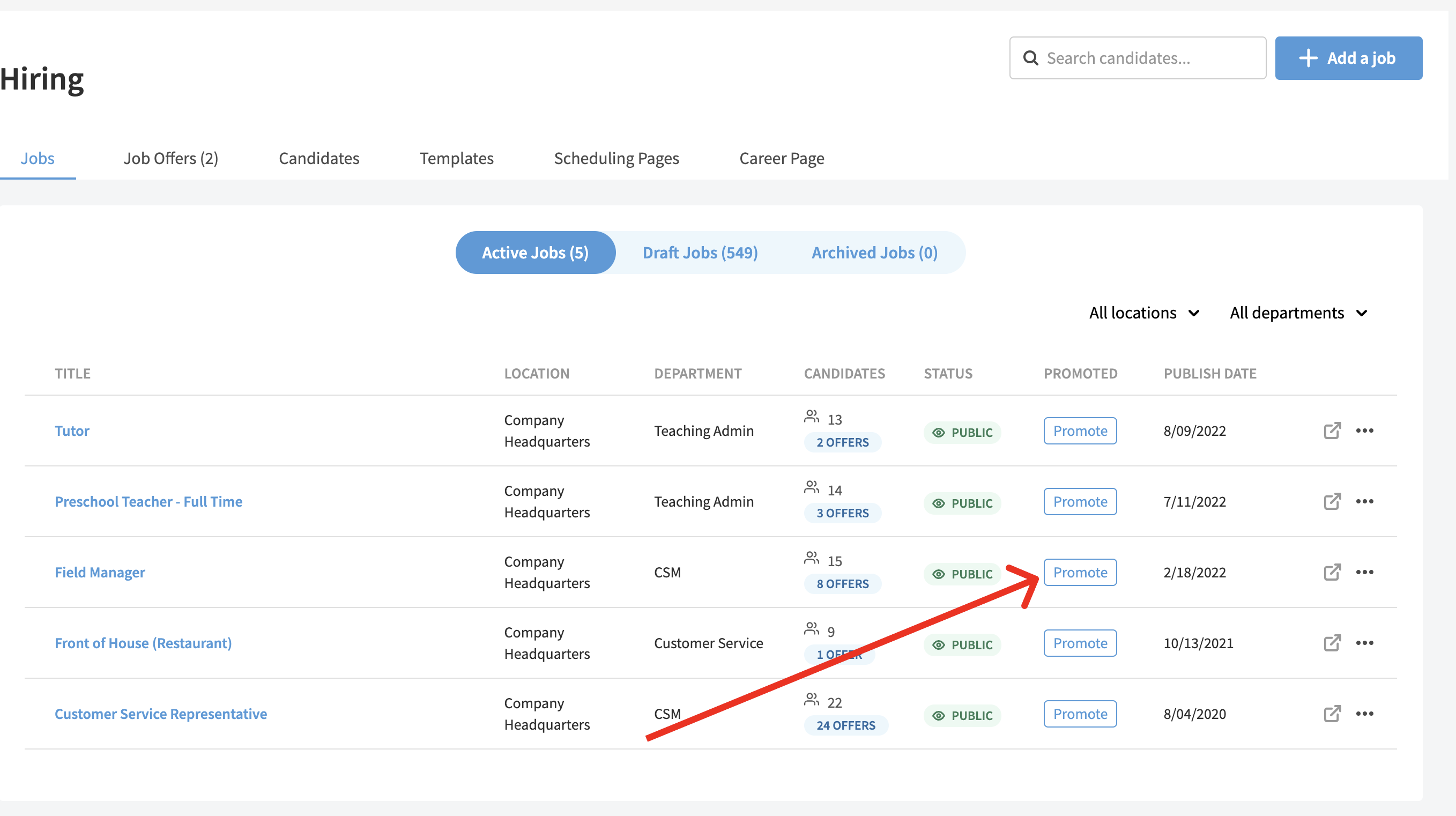 Jobs can also be promoted within the job by clicking on the job posting page.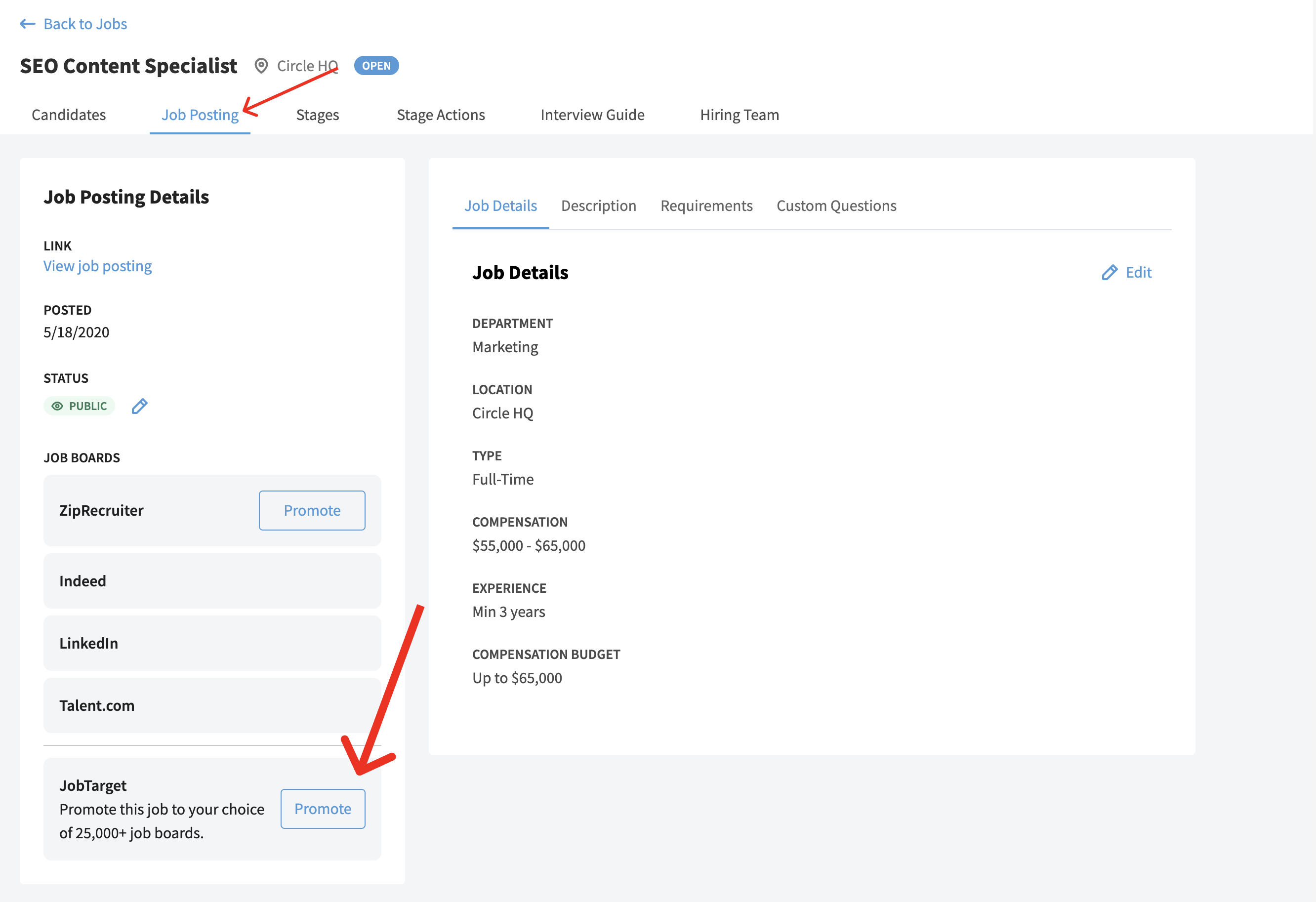 To promote a job through JobTarget, select the 'Promote' button and choose the JobTarget option. Click the Go to JobTarget on the JobTarget Promotion card.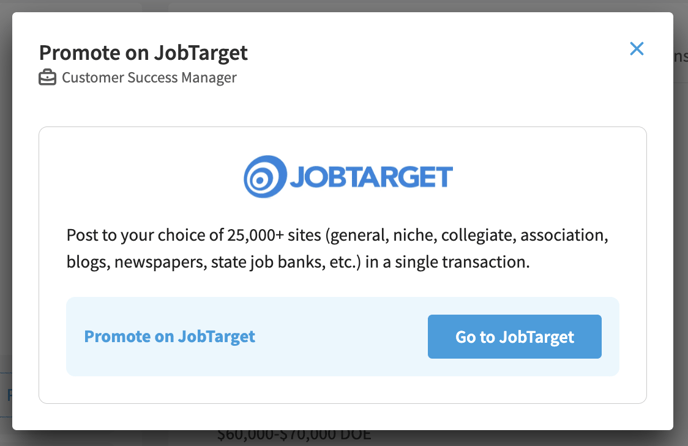 For first time promoters, you'll need to connect your Eddy account to JobTarget by selecting the "Connect to JobTarget" button.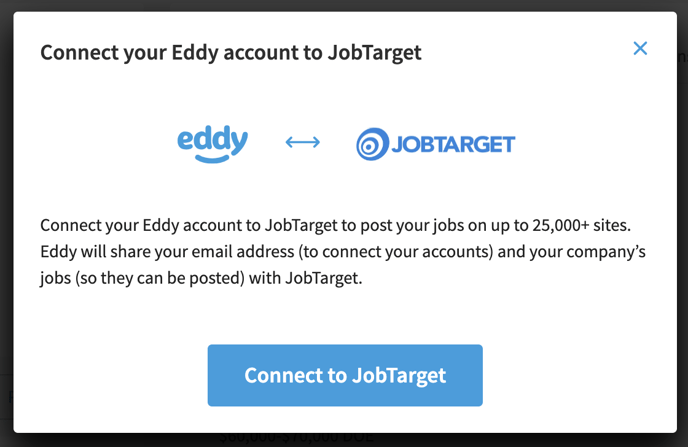 This will launch the JobTarget interface so you can select which job boards you'd like to connect and where to promote your job.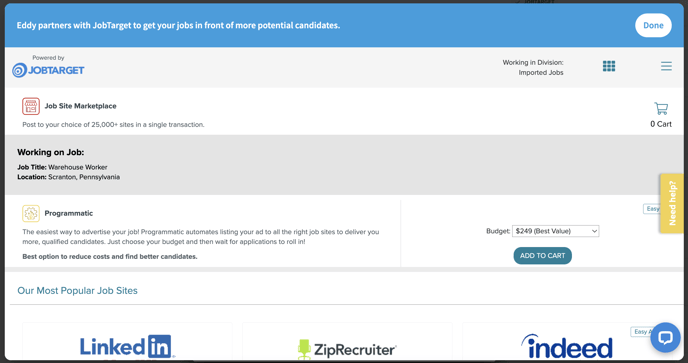 Why Use JobTarget?
Eddy integrates with JobTarget in order to give you access to over 25,000 job boards. You can promote on popular boards such as LinkedIn or Indeed directly, you can choose niche job boards that fit your jobs' profile, or you can choose JobTarget's "Programmatic" option.
What is a 'Programmatic' listing on Job Target?
JobTarget's programmatic listing will allow you to set a budget for a given period of time. JobTarget will then use that budget across multiple popular job boards (at a cheaper rate than it'd cost you to promote on each of those job boards separately). After a some time testing your job posting across multiple boards, JobTarget will then programmatically determine which boards are the best fit for your job and will begin using more of your budget on the top performing boards.
Can I search for a specific job board on JobTarget
Yes, the JobTarget search bar is near the bottom of the page. You'll need to scroll down to find it. Once you've located the search bar, you can enter any job board you like and see if JobTarget has the capability to publish to it.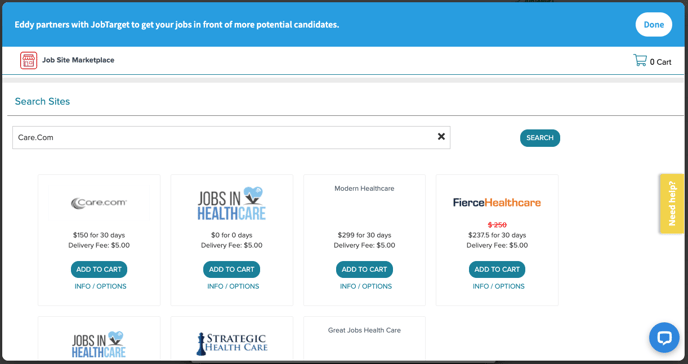 How do I pay for JobTarget promotions?
Once you have added job board options to your cart, you can checkout by clicking the cart in the top right corner. This will open up the Checkout page for you to review your promotions. Enter in your payment information on this page. Please note that Eddy does not handle any billing for JobTarget.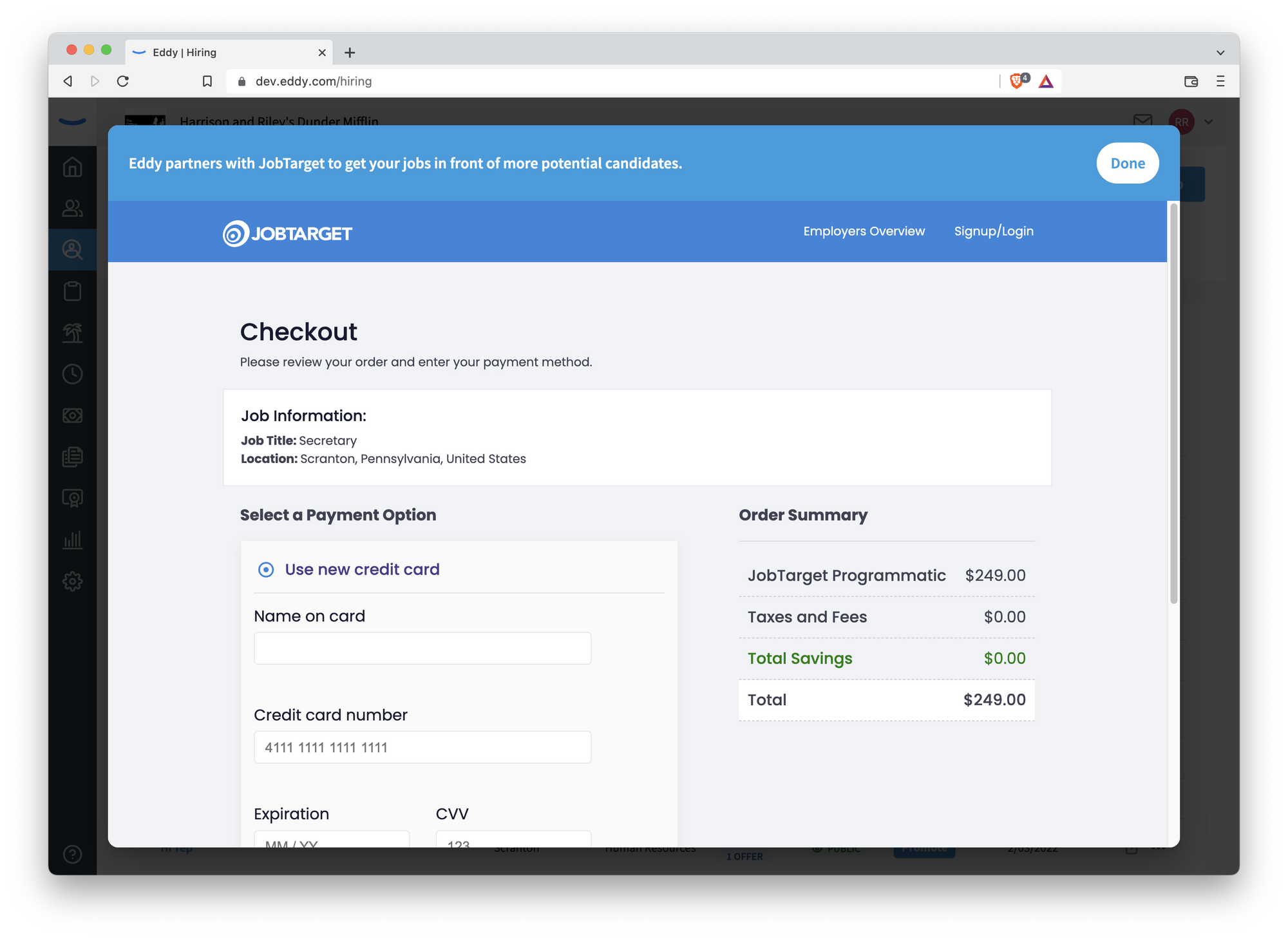 Upon payment, you will receive an order confirmation.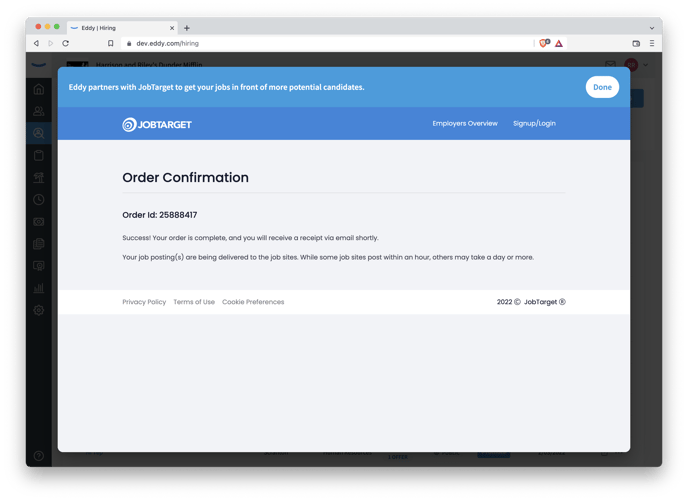 Your jobs will now show as promoted on JobTarget within the Eddy platform.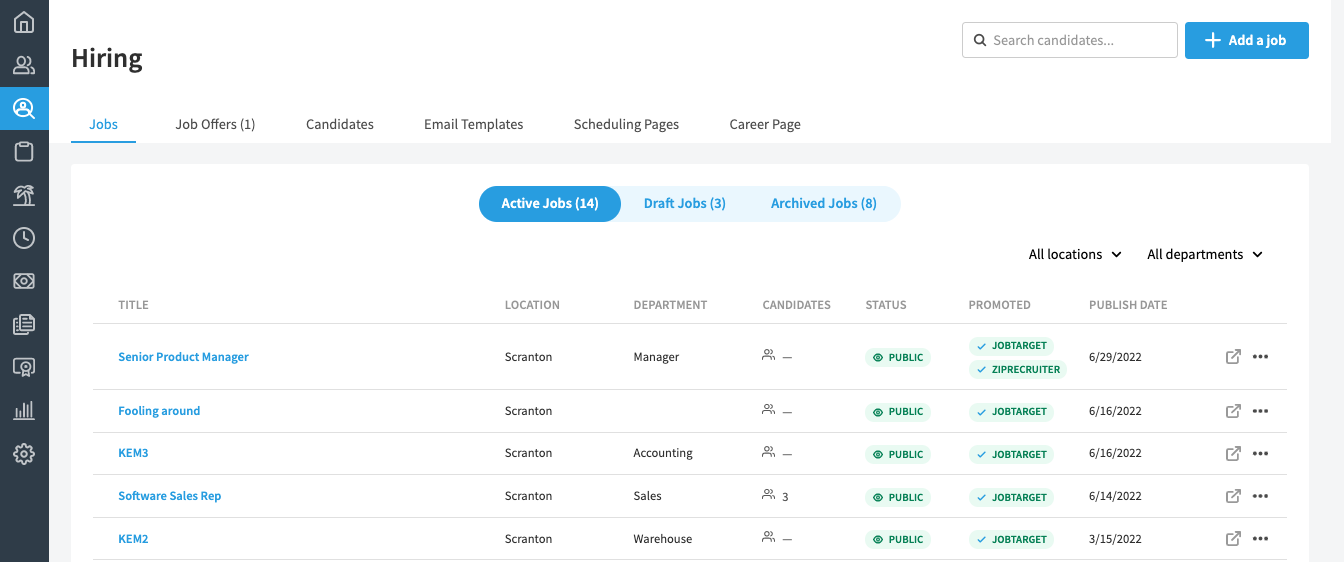 For questions with JobTarget billing or job visibility, review this document or reach out to JobTarget directly.
Customer Support
(860) 271-7248
M-F 9am – 8pm ET
support@jobtarget.com
Billing
(860) 288-5429
M-F 9am – 5pm ET
financesupport@jobtarget.com