One of the best ways to ensure visibility on Indeed is by posting directly to their job board. You can do this and get the benefits of managing candidates in Eddy by sending them to apply on your careers page.
For the best odds of having organic visibility on Indeed's job board, we often recommend posting a job directly to Indeed. While there's never a guarantee that Indeed will display your job posting (learn more about Indeed's guidelines here) going directly to the source seems to garner the best results.
If you decide that you'd like to post your job directly on Indeed, notify your customer success manager at Eddy. This will allow your customer success manager to prevent the jobs you post in Eddy from being submitted to Indeed, helping you avoid duplicate postings.
Once your job is listed on Indeed, Indeed makes it possible to send job seekers to your job's application page. Once a candidate submits an application, they'll land in Eddy's applicant tracking system to make your candidate manage process easy.
The following article will walk you through the steps to post a job on Indeed and manage those job applicants in Eddy.
If you already have an Indeed Employer Account and have already claimed your company page, skip to Step 3
STEP 1: Create an Indeed Employer Account
Creating an employer account on Indeed is easy.
1. First you'll click the "Sign In" or post a job button on the Indeed for Employers page.
2. Next you'll enter your email address
3. Then you select that you're an employer
4. Add a password
5. Answer questions about your company
Indeed will likely have you verify your email address as well before posting your first job.
STEP 2: Claim Your Company Page
This step is optional (but highly recommended) and doesn't cost you anything. By claiming your Company Page, your jobs will all be searchable on Indeed in the same location.
To do this, follow the steps below:
1. Visit this link and search for your company's name in the search bar at the top of the page
2. Find your company's page in the search results and click on it
3. Once on your Company Page, click the Why Join Us tab next to the Snapshot tab
4. After clicking on the Why Join Us tab, select the "Claim this company page" button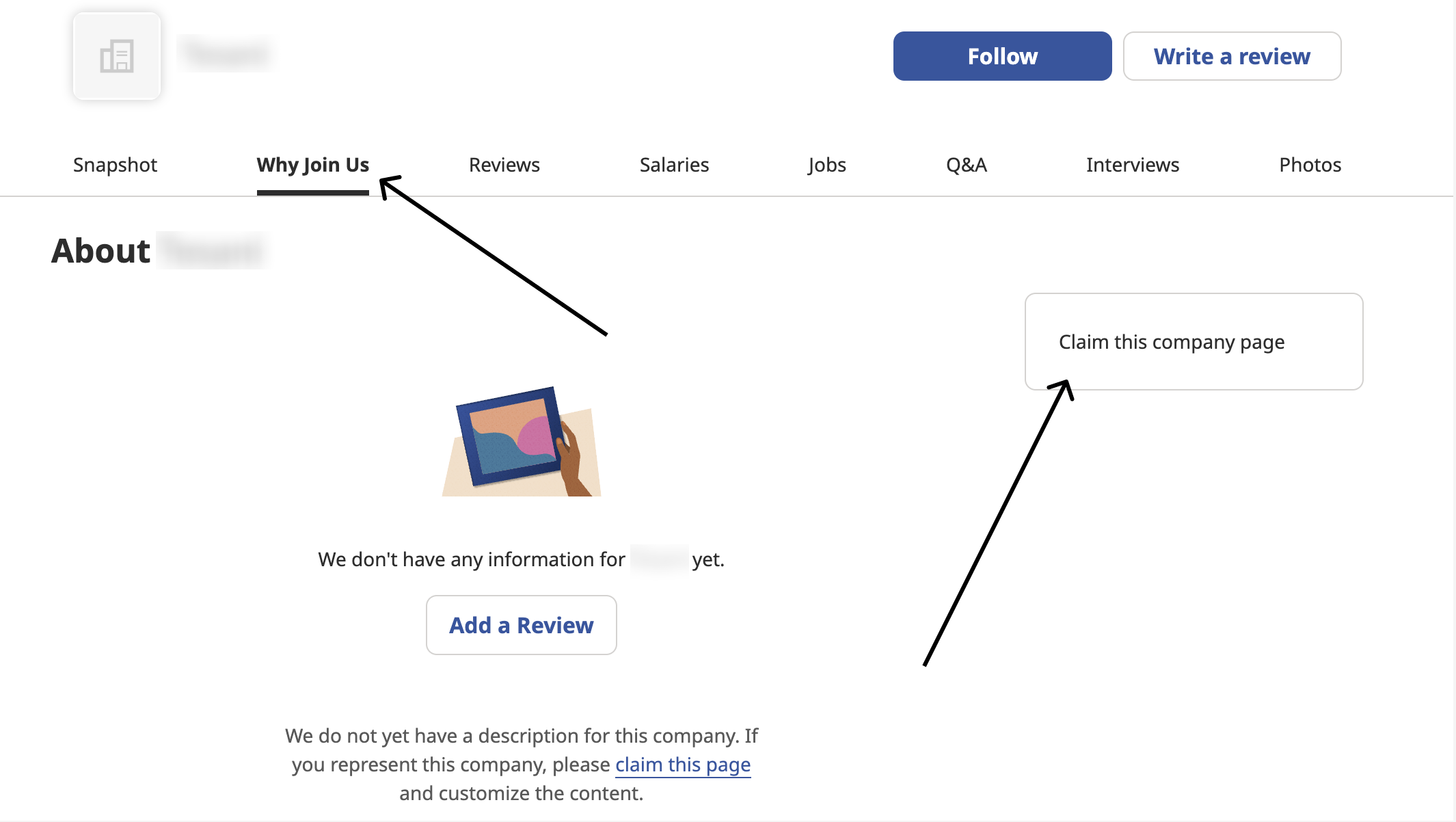 5. Click "Claim" on the next page
6. Your claim will be sent to Indeed for verification
STEP 3: Create your job post in Eddy
1. Go to Eddy's "Hiring" tab and click the "Add a Job" button at the top right of the page

2. Walk through the steps to create your job post
Once you write the job description for the job, you may want to copy it just so you can later paste in and use it in the job description for you Indeed listing
3. Publish the job publicly (this way it'll get distributed to job boards other than Indeed)
STEP 4: Post a Job to Indeed
Now that you've got your account setup and you've claimed your Company Page, it's time to post a job.
1. Login to your account
2. Click on the "Post a Job" button at the top left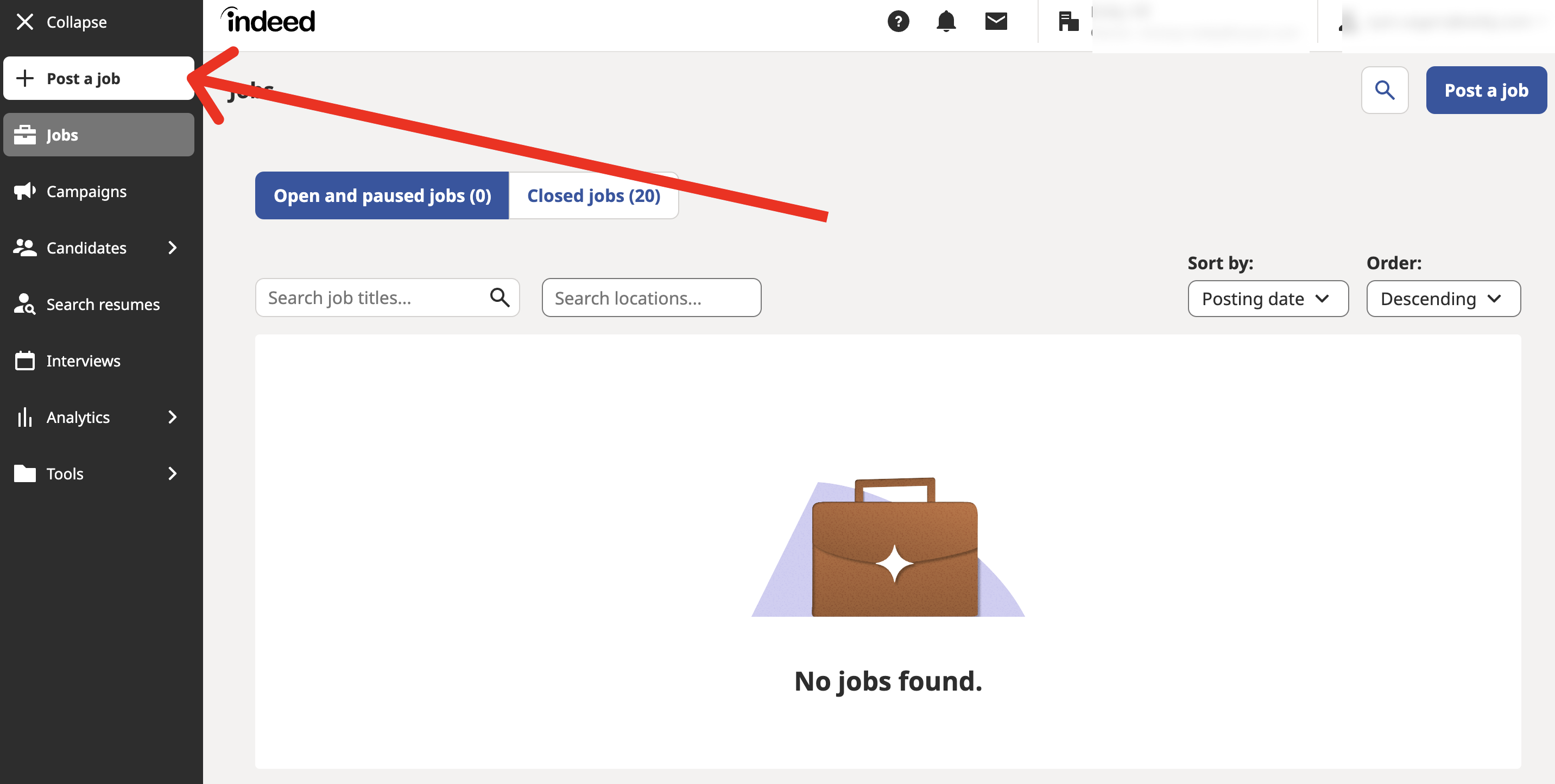 3. Follow the steps to add all relevant and required information about the job
If you want to use the same job description that you wrote for the Eddy job, just copy and paste it into the "Job Description" field
4. One of the final questions Indeed will ask you is "How would you like to receive applications. On this step, you should select the "Application URL" option if you'd like your candidate to flow into Eddy's applicant tracking system.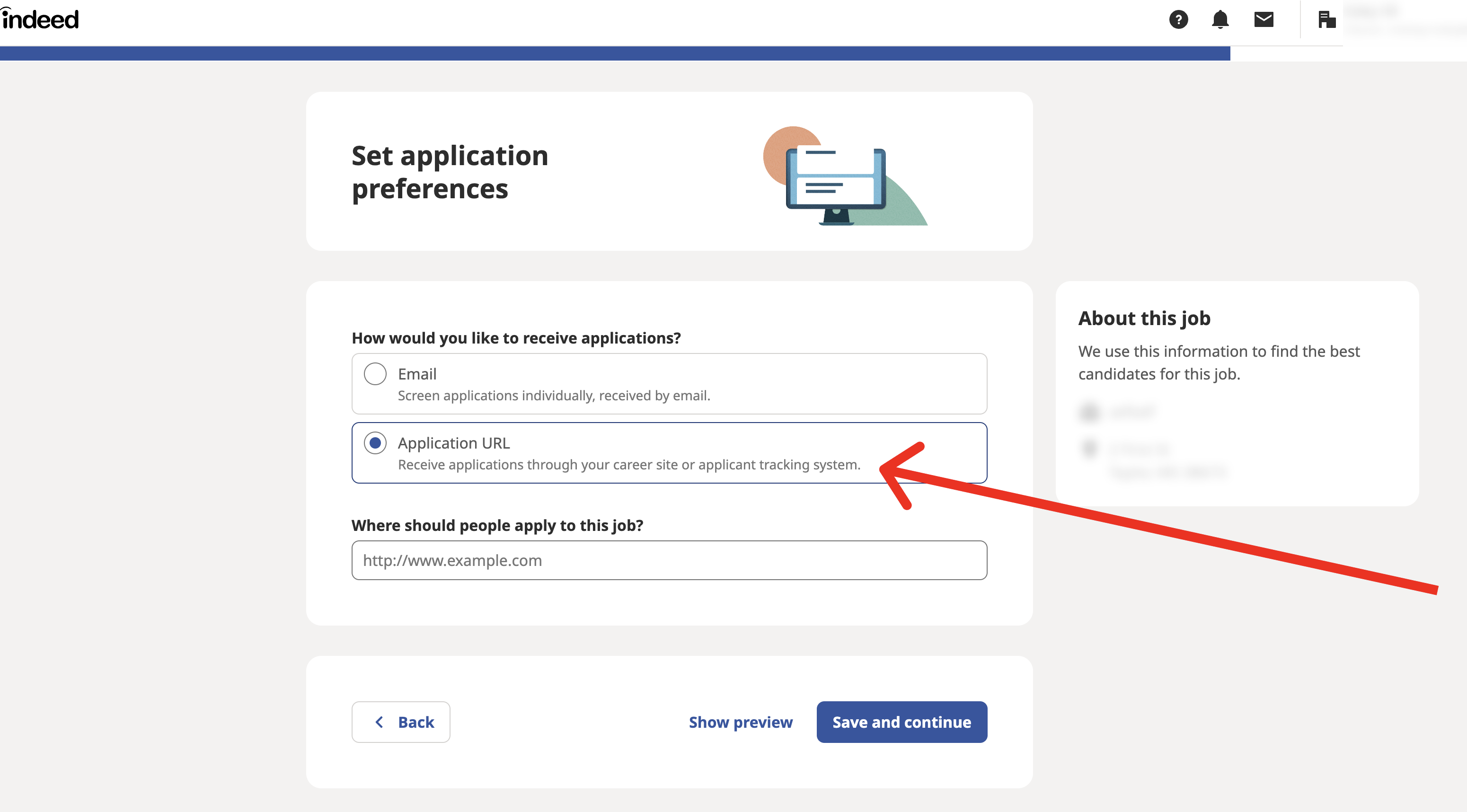 IMPORTANT NOTE: If you do not see an option to select "Application URL", it's because Indeed must turn this on for your account. You must contact Indeed directly to get this option.
Tell them that you'd like to be able to have candidate apply on your company's career page website. Ask to have the "Application URL" option turned on.
Once you've selected the "Application URL" option, a text box will appear below that says:
"Where should people apply to this job?"
You'll need to get the URL for the job posting you've created in Eddy. To do this, open Eddy and click on the icon with the arrow at the far right of the job posting that you wish to copy

This will open the job's page in a new window in the browser.
Go to the search bar of your browser and copy the entire URL found in the bar

After you've copied the URL, paste it into the "Where should people apply to this job" field on Indeed
5. Once you've done that, just finish the remaining steps for Indeed and your job will be published to their board. Your candidates will apply with the Eddy link you provided, and they'll make their way nicely into your applicant tracking system.